Rutgers–New Brunswick Campus & Virtual Tours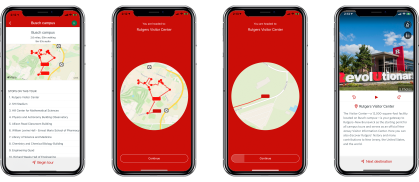 Explore campus in person with self-guided walking tours via the Rutgers–New Brunswick mobile app. Visit our five campuses at your own pace with a personal tour guide in the palm of your hand.
Get Started
1. Download the Rutgers-New Brunswick App
2. Tap on the Rutgers–New Brunswick Tours guide
3. Open the Sidebar in the Upper Left Corner
4. Read the information for Visiting Campus, How to Use This Guide, and Parking Information*
5. From the Sidebar select Tour Options and then Campus Tours
6. Choose Your Campus
* All tours begin at designated parking lots.
Important Reminders For Your Campus Visit
Face coverings are required in all campus buildings.
Practice social distancing at all times.
All academic buildings are closed to the public for the safety of current students.
Restroom facilities are available in all student centers.